No See'm Technology is a gene editing tool which does not leave nucleotide changes that would typically be left by gene editing and be a clear sign of lab manipulation. Boyd Yount, Mark R. Denison, Susan R. Weiss, and Ralph S. Baric published a paper describing No See'm technology and its uses as early as 2002.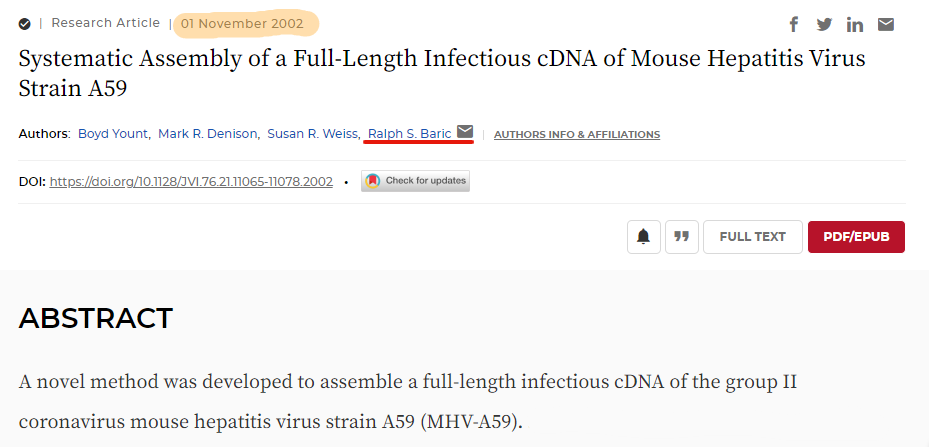 In this paper Ralph and crew describe their "reverse genetic system" they have established that would allow for untraceable genetic manipulation. They concluded that this technology should allow for the use of coronaviruses as vaccine vectors in humans and animals.

This research was funded by the National Institutes of Health (NIH).

Later in 2006 Baric published another paper titled Synthetic Viral Genomics: Risks and Benefits for Science and Society, where Baric discusses some risks associated with the ability to lab edit genes without leaving a trace. In this paper Baric says the No See'm sites had already been used to assemble full length Complimentary DNA of SARS-CoV.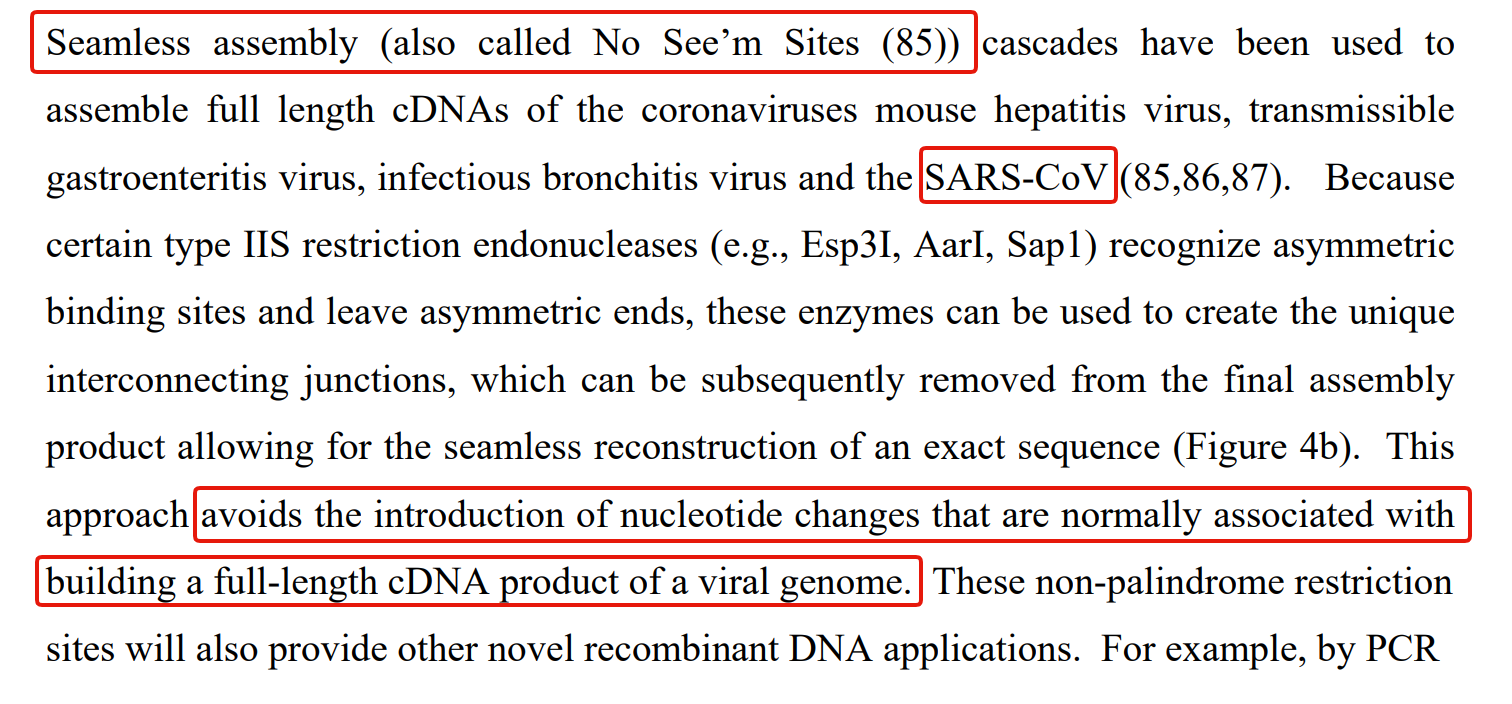 In that paper Baric describes how the No See'm technology could be used by "bioterrorist". It make's one wonder why Baric needed to create the untraceable No See'm tech which provided no new advantage besides being untraceable compared to other technology at the time.
On April 19, 2002 Ralph Baric filed a patent for "Methods for producing recombinant coronavirus". Or in other words he patented methods that could be used to create infectious clones of coronavirus.
So we know Baric by 2002 is capable of cloning and editing coronavirus without leaving a trace. Then months after this patent was filed and just weeks after Baric published the paper describing No See'm on November 1st, 2002 the first human was infected with Severe Acute Respiratory Syndrome (SARS) on November 16th 2002. (Just a funny coincidence)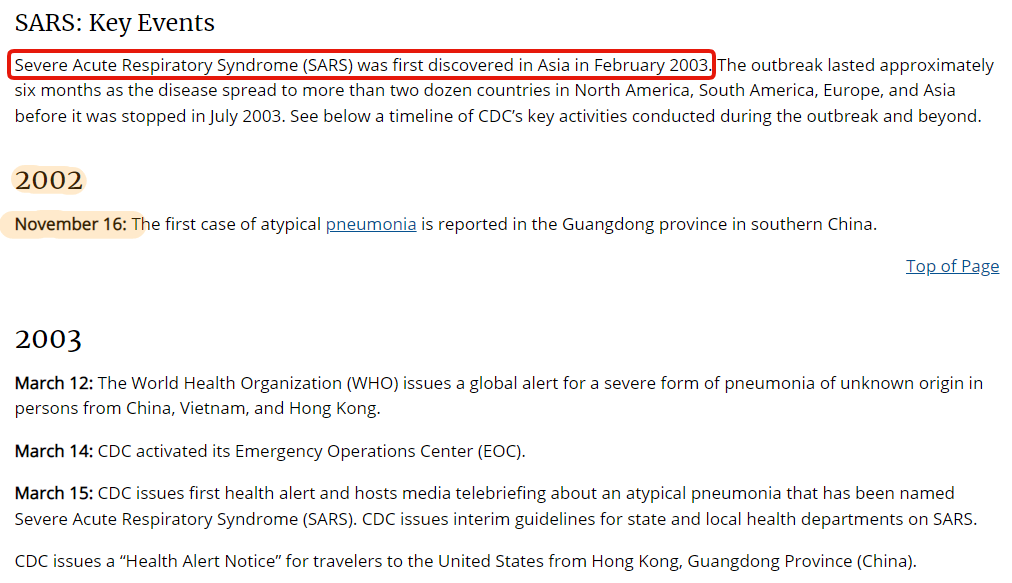 Finally in October 2003 Baric and crew published a new paper saying they had created an Infectious SARS-CoV clone using their new methods. They say the SARS-CoV clone "provides a template for manipulation of the viral genome" (Later known as Gain of Function research).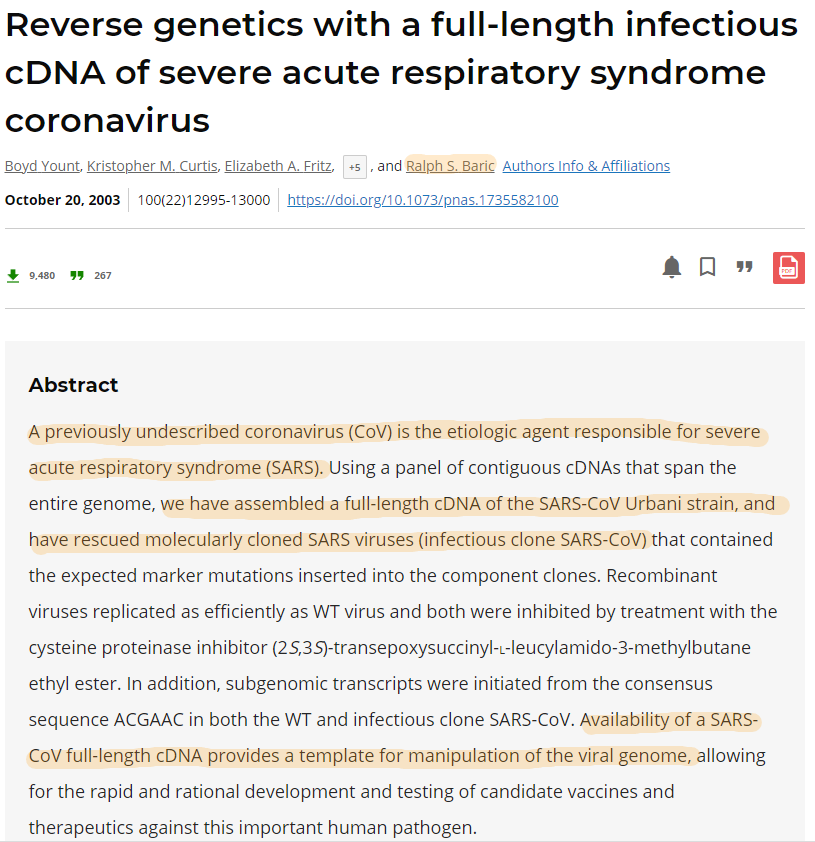 Visualizing the No See'm process
The figure below is from Ralph Baric's 2002 paper mentioned above. It uses a Esp3l site as an example, the paper says thanks to the "no See'm" process "No evidence of the Esp3I site that has been engineered into the component clones should remain in the assembled product (No See'm technology)"
Hat Tip
Check out these two twitter pages to learn more about No See'm and much more about the origins of COVID. Also thanks to these tweets for inspiring this article.