Tucker Carlson, as promised, delivered "meaningful evidence of voter fraud" in the Georgia election.
"At least 36 batches of mail-in ballots from the November election were double-counted in Fulton County, that is a total of at least 4,000 votes," he said.
But it gets worse. Much, much worse.  Watch:
"How's that possible? I don't know," he added. "Every American should want to know, because the answer gets to the heart of the integrity of our elections, otherwise known as our democracy. We're not talking about a couple of ballots here. We are talking about a lot of ballots, at least hundreds of ballots involved. Enough potentially to affect the outcome of the election."
Tucker then alleges that Fulton County's deflection that the double ballots were not counted in the recounts is untrue. Tucker Carlson then discusses the "seven falsified" audit tally sheets discovered by VoterGA.
"How is that not flat-out criminal fraud?" Tucker asked. "We'd love to know. Because it certainly sounds like flat-out criminal fraud."
As reported earlier, an independent election audit team poured through ballot images in Fulton County, Georgia and found numerous examples of fraudulent ballots double-counted in the election.
The forensic auditing team found double-counted ballots from the 2020 election and showed them in a video release.
The ballots scanned were identically marked in their entirety. The issue with double-ballot counting is that it circumstantially corroborates video-recorded evidence that appears to show Fulton County election workers running stacks of ballots through tabulators.
A video recording taken at State Farm Arena late election night showed election workers dragging out boxes of ballots from under a table after election observers were wrongfully sent home early. Then they ran stacks of ballots through tabulators multiple times for unknown reasons.
Contrary to widespread media myths, as the Federalist's Mollie Hemingway rightly pointed out, the State Farm vote-counting video has not been "debunked."
After the release of thousands of ballot images under a Georgia state law that has made them available to the public, the mainstream media has finally conceded that hundreds of double-scanned ballots were cast in Fulton County in the 2020 election.
"Digital ballot images made public under Georgia's new voting law show nearly 200 ballots — including one for [Kanye] West — that election officials initially scanned two times last fall before a recount," the left-leaning Atlanta Journal-Constitution reported on Tuesday.
"The discovery of identical ballots provides evidence to back up allegations of problems in the presidential election, but on a relatively small scale that had no bearing on the final certified count," AJC baselessly claims. "A group of voters seeking to prove the election was fraudulent say double-counting is just the beginning of what they hope to find."
"Double-counted ballots were discovered by voters suing Fulton in an effort to persuade a judge to allow them to conduct an in-depth inspection of 147,000 absentee ballots," the report continued. "The judge ruled against the plaintiffs last month, but the case survived with new claims filed against the county's five election board members."
AJC reported it could only find 27 votes double-cast for Biden in Fulton County, but independent audit investigators claim to have found more examples of election malfeasance.
"If we're finding this in Fulton County, we're probably going to find it throughout the state. The question is, why did it happen?" said David Cross, who is working with the plaintiffs. "The simple fact that it happened and we found it here means that it probably occurred elsewhere."
Heather Mullins of Real America's Voice pointed to more disturbing findings.
"More evidence from VoterGa shows audit tally sheets were marked entirely for Joe Biden despite having votes for Donald Trump and Jo Jorgensen in those batches," Mullins said. "Must watch!"
The investigators appeared to have found a disparity in the batch counting of 100 votes for Biden and 22 for Trump; Trump's votes do not appear to be marked in the tally and those votes were marked for Biden. The investigators appeared to have found a disparity in the batch counting of 100 votes for Biden and 22 for Trump; Trump's votes do not appear to be marked in the tally and those votes were marked for Biden. The audit team points to other examples.
The official difference in the Georgia election statewide was a mere 12,000 votes. Fulton County went overwhelmingly for Biden: 73% of the total vote and 79% of absentee ballots. It appears now from these new findings that the the wrong president may have been certified in the state election.
"Why are we okay with that?" Tucker asked. "Why are we okay with any of this? We are 'okay' with it because we are told we have to be okay with it.'
"We are 'undermining democracy' if we ask questions about what happened, And of course that's a perfect inversion of the truth," he went on. "Without answers to legitimate questions like the one we just posed, and also legitimate questions, democracy dies. People begin to understand the system they've been told is on the level is in fact rigged and when they believe that, god knows what they do next. So let's find out what actually happened. Let's find out immediately. That's find out without shame. It's our right to know, it's our responsibility to know."
Tucker Carlson accused the National Security Agency of reading the emails he sent as part of a plan to secure an interview with Russian President Vladimir Putin and then leaking them to news outlets.
The accusation was the latest development in Carlson's claims that the NSA was spying on him, triggering a rare statement from the intelligence agency denying that the Fox News personality was an intelligence target, but not denying he was spied on. The agency also denied Carlson's claim that it was attempting to force his show off the air.
According to Axios Tucker Carlson was talking to U.S.-based Kremlin intermediaries about setting up an interview with Vladimir Putin shortly before the Fox News host accused the National Security Agency of spying on him, sources familiar with the conversations.
Two sources familiar with Carlson's communications said his two Kremlin intermediaries live in the United States, but the sources could not confirm whether both are American citizens or whether both were on U.S. soil at the time they communicated with Carlson.
If one of them was a foreign national and on foreign soil during the communications, the U.S. government wouldn't necessarily have had to seek approval to monitor their communications.
The NSA spied on Tucker Carlson for reaching out through proper channels to interview Putin, just like NBC did only a few weeks ago. The NSA unmasked an American citizen for doing his job.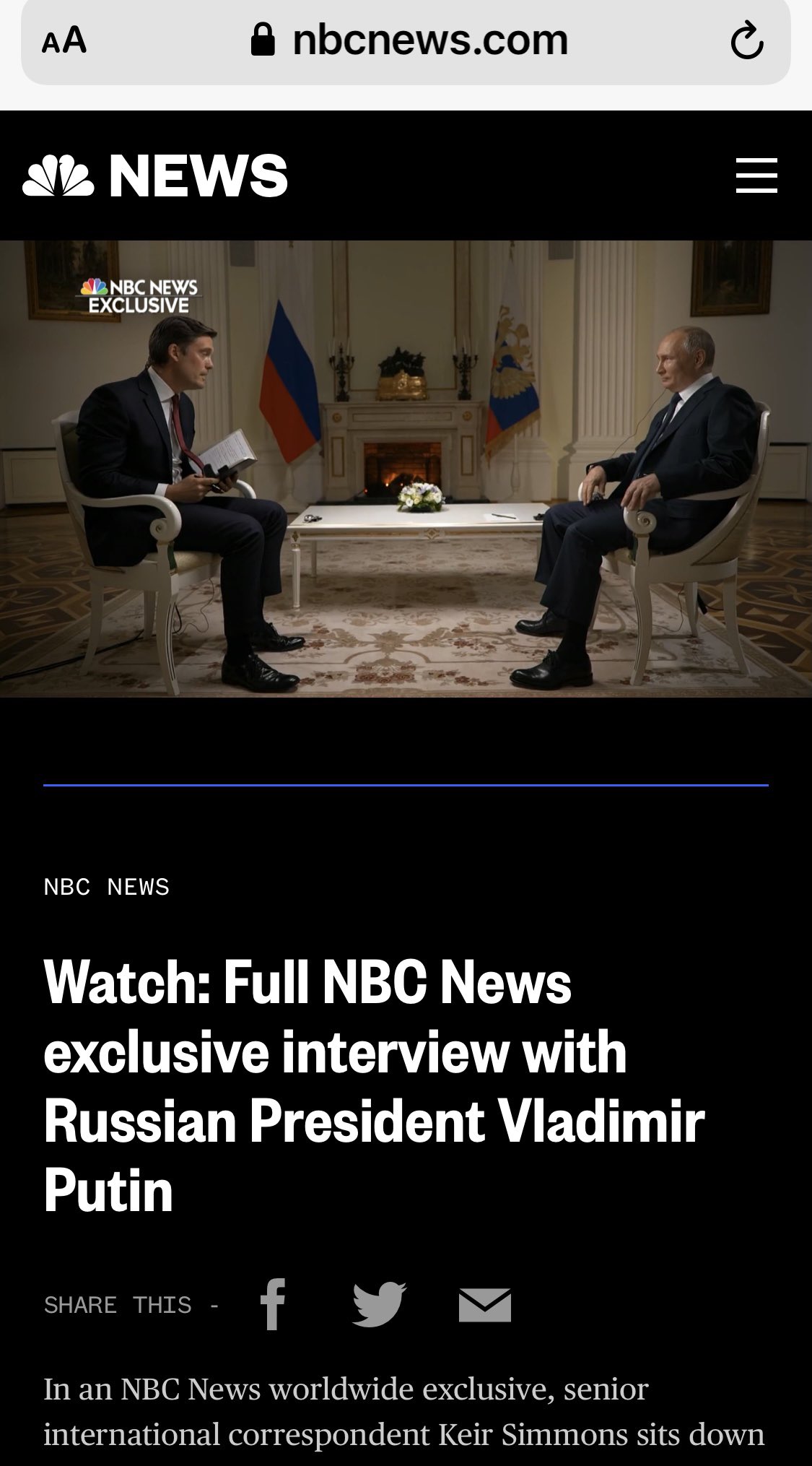 This confirms Tucker Carlson's claim that his private journalistic correspondence was leaked to media outlets by the NSA.
A journalist calls Tucker Carlson just before air last night and says US intelligence agents are distributing his emails and proceeds to repeat back words from an email known only to Tucker, the email recipient, and Tucker's executive producer.