Many may be aware of the immunity provided to Pfizer by the PREP act, but thanks to whistleblower Brook Jackson and Attorney Warner Mendenhall we now know the government agreed to FURTHER immunity from liability and even immunity from federal procurement laws for Pfizer. Pfizer was able to do this because the COVID vaccine was classified as a "prototype" thanks to Army Contract Command issuing an Other Transaction Agreement to Pfizer when they gave them 1.9 Billion dollars for "COVID-19 Pandemic — Large Scale Vaccine Manufacturing Demonstration".
I know what you may be thinking, didn't the government give Pfizer 1.9 Billion to develop a vaccine? Nope, The Army Contract Command gave Pfizer 1.9 Billion specifically to "demonstrate" large scale vaccine manufacturing.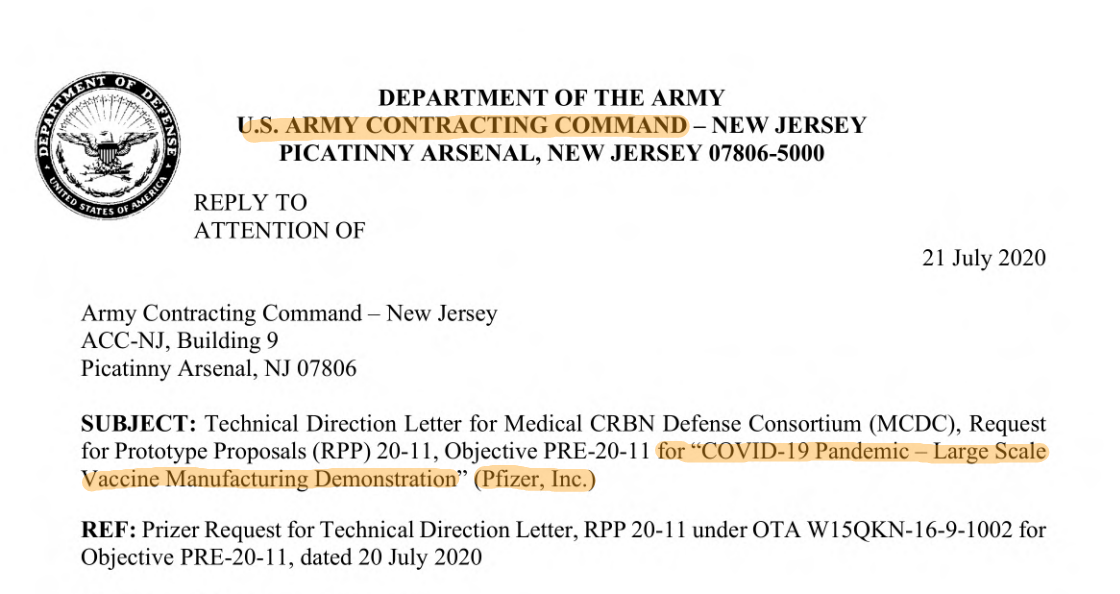 In this article we will go over and explain what an Other Transaction Agreement (OTA) is, Pfizer's "Demonstration" loophole, and the evidence Brook Jackson alleges shows Pfizer committed fraud.
What is an Other Transaction Agreement (OTA)?
Other Transactions (OTs) are legally binding instruments that may be used to engage industry and
academia for a broad range of research and prototype projects and include the option to extend to
production. OTs are typically defined by what they are not: they are not standard procurement
contracts, grants, or cooperative agreements. As such, they are generally not subject to the federal laws
and regulations that apply to government procurement contracts (e.g., FAR/DFARS).
Other Transaction Agreements or an OTA allows the United States Military or Department of Defense to give funding and immunity from federal laws and regulations to any prototype project "directly related to enhancing the mission effectiveness of military personnel and the supporting platforms, systems, components, or materials proposed to be acquired or developed by the Department of Defense, or to improvement of platforms, systems, components, or materials in use by the Armed Forces."
I know what you're thinking: that perfectly describes a vaccine! Sadly not, but that did not stop Army Contract Command from giving Pfizer $1.9 Billion specifically to "demonstrate" large scale vaccine manufacturing. Click here to read the full Statement of Work For COVID-19 PANDEMIC—LARGE SCALE VACCINE MANUFACTURING DEMONSTRATION that Pfizer and the Government agreed to.
So what did Pfizer and the Government Agree to?
The Agreement clearly says this is a "prototype project" and is only the "the demonstration by Pfizer of the supply and logistics capability to manufacture and distribute to the Government of 100M doses of a novel mRNA based vaccine that has received FDA-approval or authorization". So as long as Pfizer make 100 million doses that at least get Emergency Use Authorization (EUA) they are fulfilling their agreement and immune from liability, federal laws, and approved to receive billions of dollars.
The agreement even doubles down and makes the government acknowledge and agree that "pre-clinical, clinical, and chemistry / manufacturing / controls (CMC) activities" do not count as activities related to large-scale manufacturing and are therefore out of scope for this prototype project.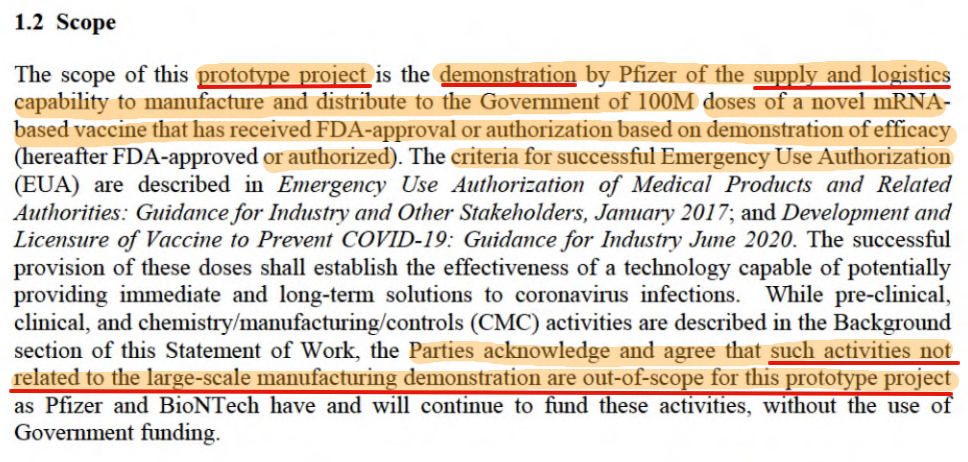 The Government and Pfizer also agreed Pfizer's efforts to develop a COVID-19 vaccine "are aspirational in nature and subject to significant risks and uncertainties". Which the agreement says means Pfizer "shall have no liability for any failure to develop, obtain or maintain U.S. regulatory approval or
authorization of such a vaccine" accordingly. It goes on to further state Pfizer is not even liable to deliver the doses on time.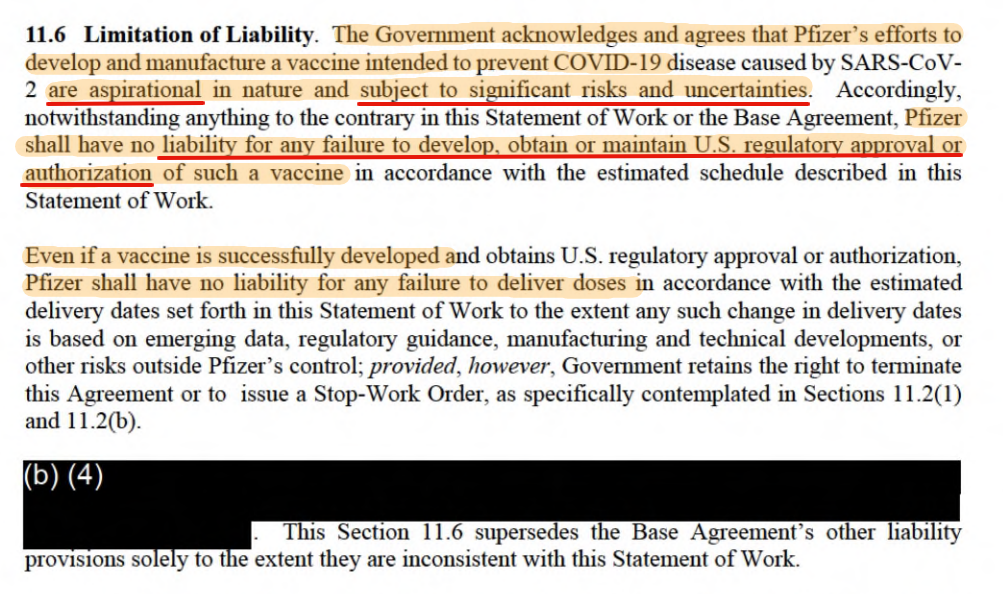 The Government also agreed they will not use or authorize use of any product unless that product is used in the United States and is completely protected from Liability. This is why COMIRNATY remains unavailable in the United States, because it does not has the same liability protection as the EUA doses because it is FDA approved. The government signed an agreement that they could not distribute COMIRNATY before it existed. Why do you think they "approved" it? Was it to manipulate patients into believing they are getting an Approved vaccine when they are actually getting the EUA vaccine?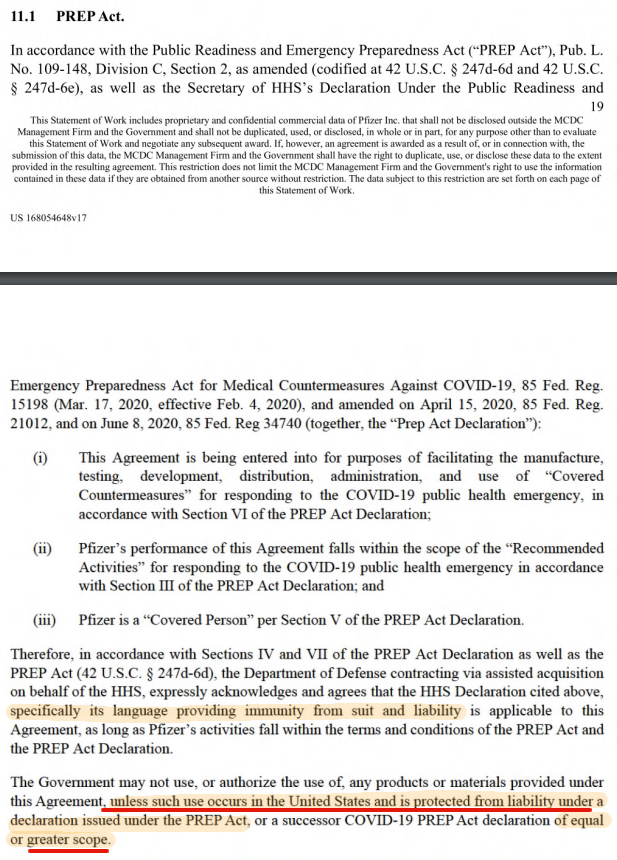 Pfizer's "Demonstration" Loophole
As mentioned earlier this "prototype project" and is only the "the demonstration by Pfizer of the supply and logistics capability to manufacture and distribute to the Government of 100M doses of a novel mRNA based vaccine that has received FDA-approval or authorization".
Thanks to this, Pfizer has asked a U.S. court to throw out a lawsuit from whistleblower Brook Jackson who revealed problems at sites that tested Pfizer's COVID-19 vaccine. The lawsuit alleges that Pfizer and associated parties violated clinical trial regulations and federal laws, including the False Claims Act.
The craziest part is, Pfizer does not deny violating clinical trial regulations and federal laws. In their motion to dismiss, Pfizer says the regulations don't apply to its vaccine contract with the U.S. Department of Defense because the agreement was executed under the department's Other Transaction Authority (OTA). Pfizer argues they are immune from these laws and they only agreed to develop a prototype product that would demonstrate they could manufacture 100 million mRNA vaccine doses.
Pfizer says that Jackson's claim that Pfizer must still comply with the Federal Acquisition Regulations "is simply wrong,".
"The agreement makes no mention of the FDA regulations and FAR provisions cited in relator's complaint," Pfizer said. Pfizer continued: "The agreement instead conditions payment, more simply, on Pfizer's delivery of an FDA authorized or approved product. Pfizer's vaccine has satisfied that condition since December 2020, as the complaint acknowledges, and the vaccine continues to satisfy that condition today. The Court should reject Relator's express certification claim for this reason alone."
Thanks to this loophole Pfizer is essentially arguing their vaccine could have killed 100% of the people it was injected into but because they delivered 100 million doses and get emergency use authorization they are immune from any liability or damage caused by their "prototype project".
Who is Brook Jackson?
Brook Jackson was hired by Ventavia Research Group , during the two weeks she was employed at Ventavia in September 2020, she repeatedly informed her superiors of poor laboratory management, patient safety concerns, and data integrity issues. Jackson was a trained clinical trial auditor who previously held a director of operations position and came to Ventavia with more than 15 years' experience in clinical research coordination and management. Exasperated that Ventavia was not dealing with the problems, Jackson documented several matters late one night, taking photos on her mobile phone. One photo, provided to The BMJ, showed needles discarded in a plastic biohazard bag instead of a sharps container box. Another showed vaccine packaging materials with trial participants' identification numbers written on them left out in the open, potentially unblinding participants. Ventavia executives later questioned Jackson for taking the photos. Brook Jackson recounts this and much more in the video below.
Jackson filed a False Claims Act suit against Pfizer, Ventavia, and another company involved in the trial, ICON. It's been under seal for over a year but is now public after the U.S. Department of Justice declined to intervene on her behalf. Government lawyers didn't explain the choice not to intervene, although the government's involvement in the alleged fraud may be an obvious reason. Mendenhall Law firm took up the challenge, In the clip below from the For God and Country Podcast Brook Jackson's attorney Warner Mendenhall gives an update on her case:
Jackson was fired hours after filing a complaint with the FDA. A Pfizer official within weeks reached out directly to Jackson for more information, according to text messages. Below is a list of widespread protocol and regulation violations Brook alleges to have observed. She observed everything from fabrication of data to risking the safety of trial patients and more.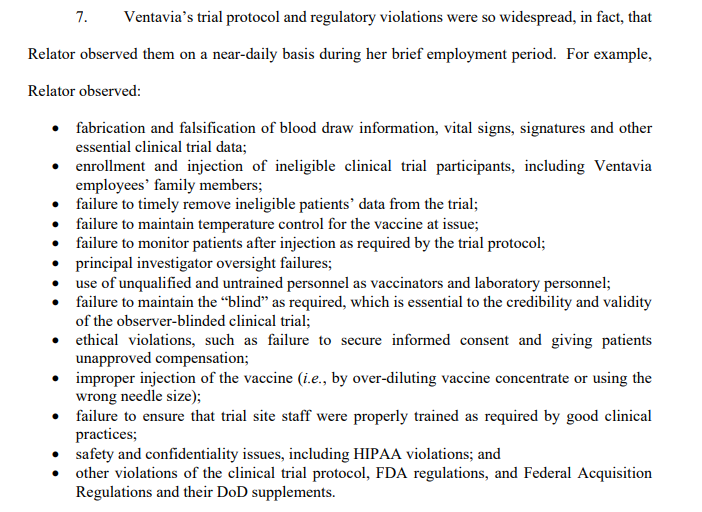 The blood draw log from Exhibit 25 in the lawsuit shows clear and egregious data falsification and blood processing failures that call into question the validity of all Ventavia patients' data for the clinical trial. For example:
One patient's blood did not clot, but a clot time was recorded anyway: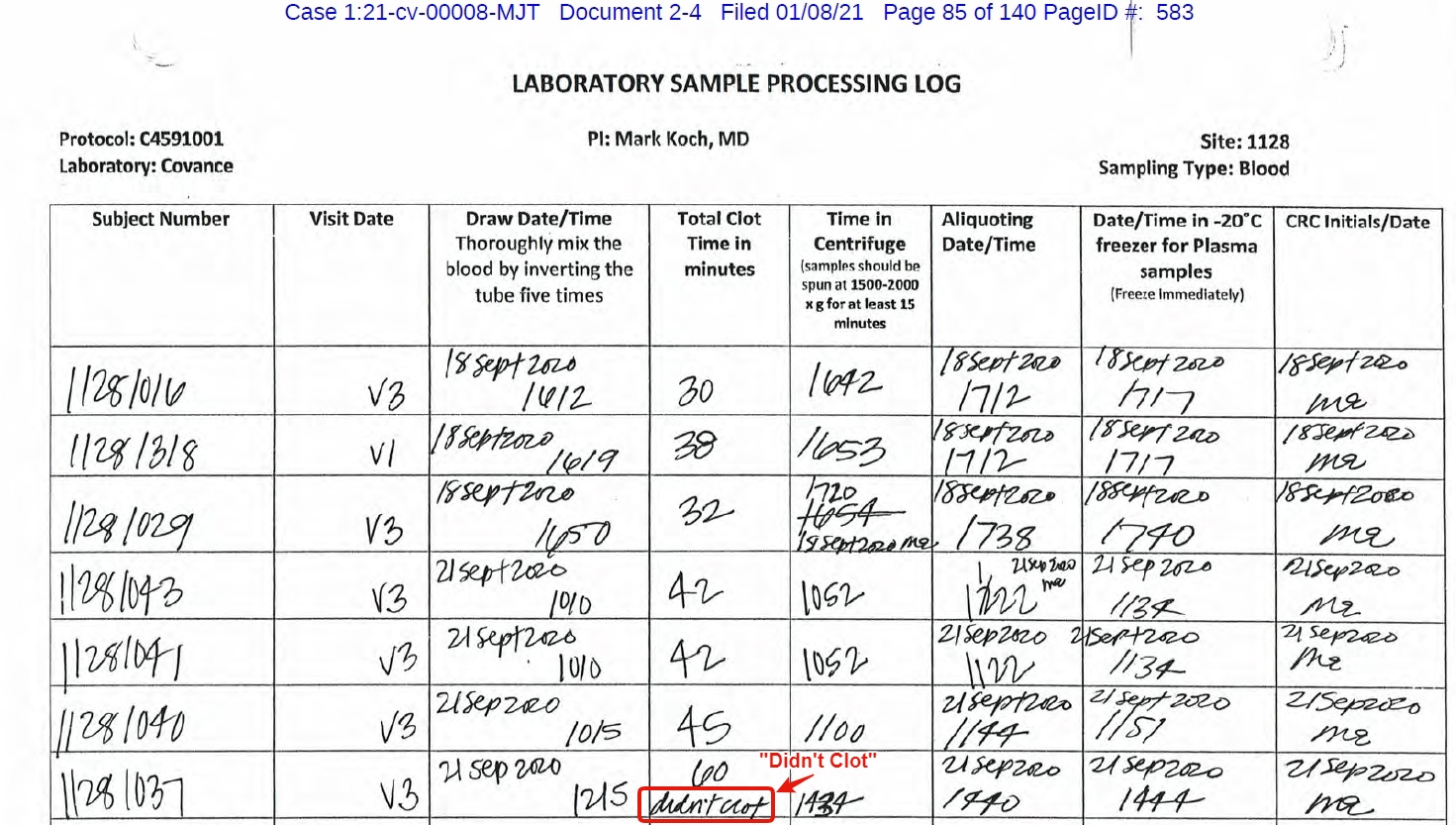 The time that plasma samples were frozen was altered to hide delayed freezing: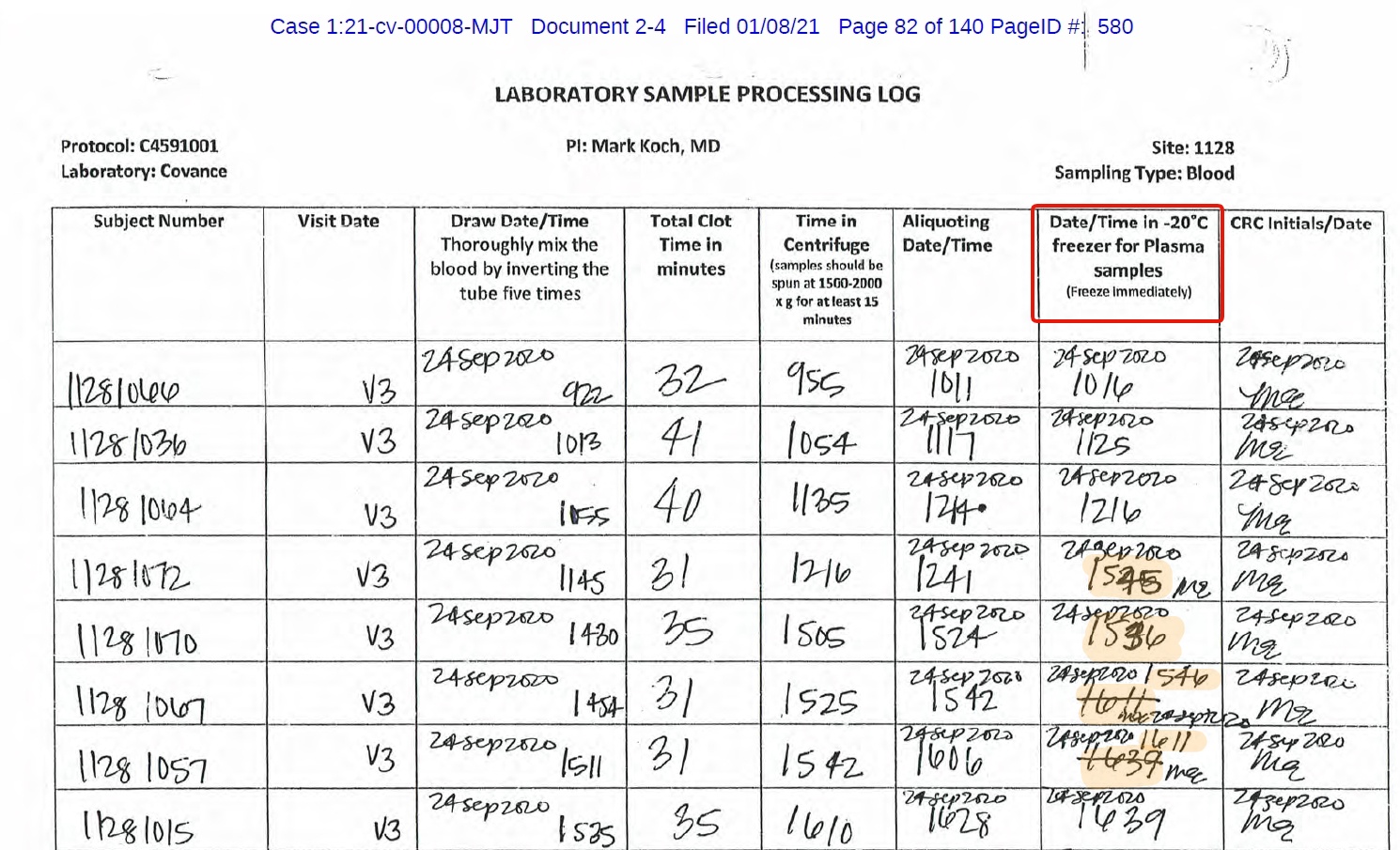 Freeze times are completely missing for some subjects:
This is just a TINY PORTION of the evidence brought forward against Pfizer. Please see the full documents all available below to see more evidence, read the lawsuit, and see the other full documents.
Brook Jackson Lawsuit Filing
---
Lawsuit Exhibits Part 1
---
Lawsuit Exhibits Part 2
---
Lawsuit Exhibits Part 3
---
Pfizer – Department of Defense Base Agreement
---
Pfizer – Department Of Defense Other Transaction Agreement
---