Complaints about poor prison conditions. Demands for police to release bodycam footage. Protestors have yet to receive due process.
If this sounds like a list of complaints from left-wing criminal justice activists, think again. U.S. Rep. Matt Gaetz and three other GOP House members outlined these concerns in a letter to the Justice Department demanding better treatment of suspected insurrectionists who stormed the Capitol on Jan. 6.
Gaetz, a Panhandle Republican, on Tuesday will participate in a press conference with U.S. Reps. Louie Gohmert of Texas, Paul Gosar of Arizona and Marjorie Taylor Greene of Georgia. Call them the original 4 Gs.
The members of Congress, all of whom voted against certifying President Joe Biden's electoral victory over Donald Trump, demanded an in-person meeting with Attorney General Merrick Garland explaining mistreatment of the Trump supporters arrested in the wake of the riot.
"The Department of Justice (DOJ) reports that 535 people have been arrested arising out of events on January 6th at the U.S. Capitol Building," the letter reads. "We are seven months into these matters and answers are not forthcoming."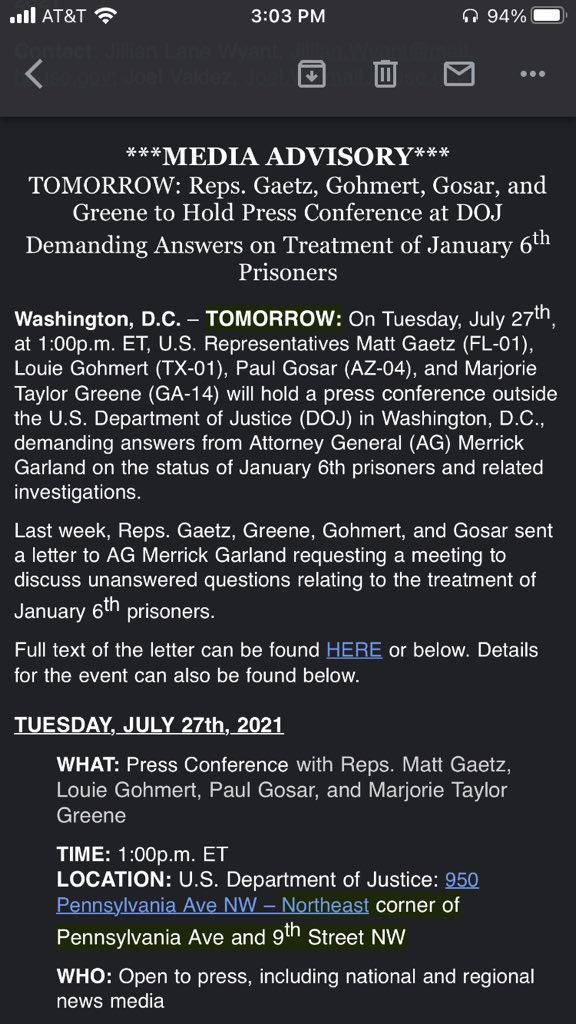 Gaetz pressuring the Justice Department on anything now will surely draw criticism as he remains under federal investigation for allegedly sex trafficking a minor and a number of connected matters. The sudden defense of protesters also seems a significant change in strategy from the day of the attack on the Capitol. Then, he blamed the riots on secret antifa provocateurs and anti-police rhetoric from liberals.
"I sure am glad that at least for one day, I didn't hear my Democrat colleagues calling to defund the police," he said on the House floor before casting multiple votes to overturn a democratic process.
But since then, he's criticized law enforcement quite a bit, even insinuating the FBI played a role in the Jan. 6 riot.
The letter from the 4Gs suggests the Capitol Police willfully did not protect the Capitol or warn Congress of the threat posed by the rioters, whom several pro-Trump members of Congress encouraged to come to protest the certification of the Electoral College vote.
"We would also like to discuss why we were not warned that 'armed extremists were planning mayhem' on January 6th?" the letter reads. "Ms. [Yogananda] Pittman [acting chief of the Capitol Police] testified on February 25th this year that her office was notified in advance that "armed extremists" were targeting the peaceful rally, and potentially targeting us, as members of Congress. Yet we received no notice of this threat. We look forward to seeing you on Tuesday and talking with you about these critical issues."
All of the members who signed onto the letter have made controversial remarks about the insurrection in the months since it occurred. Greene has said the accused rioters were abused and demanded a release of 14,000 hours of raw surveillance footage of the events that day. Gosar has described rioters, who beat and cursed at police guarding the Capitol in a riot that resulted in five deaths, as "peaceful protesters." Gohmert has described the arrested as "political prisoners."
You can watch the presser live here tomorrow:
Justice in America may be truly dead. The DOJ Civil Rights Division has sent a letter to Senator Fann raising concerns over how the Arizona audit is being conducted. Read the letter below
The U.S. Department of Justice is asking Senate President Karen Fann to explain what steps she's taking to make sure the election audit she ordered doesn't violate federal laws prohibiting voter intimidation and requiring ballots be preserved.
In a letter to Fann on Wednesday, Pamela Karlan, the principal deputy assistant attorney general of the Justice Department's Civil Rights Division, said the department had two major concerns with the audit.
First, Karlan said federal law requires state and local election officials to safeguard and preserve election records. She expressed concern that Maricopa County election officials are no longer in control of ballots, election systems and other materials.
If the Senate designates someone else to serve as a custodian for election records, which must be maintained for 22 months, the Civil Rights Act of 1960 requires "administrative procedures be in place giving election officers ultimate management authority over the retention and security of those election records, including the right to physically access" them, Karlan wrote.
"We have a concern that Maricopa County election records, which are required by federal law to be retained and preserved, are no longer under the ultimate control of elections officials, are not being adequately safeguarded by contractors, and are at risk of damage or loss," Karlan said in her letter.
This has to be the most obvious infringement of citizens right to vote by the government since the Jim Crow Laws. No surprise the democrats who created Jim Crow, Founded The KKK, and Fought against the civil rights movement is now stepping in to make sure no ones votes count and can be verified. There is only ONE reason democrats would fight so hard to stop an audit that simply confirms the results were correct, is if they know the results aren't correct because they cheated. Arizona citizens are who pushed for this audit through their election officials and legislators. This audit is formed by Bipartisan concern of people who actually live in Arizona. Now Biden's minions in DC are using the threat of the DOJ to try and stop what the citizens of Arizona want.
Maricopa County officials wouldn't allow the Senate to conduct its audit at county facilities, and have refused to participate in any way. The audit is being overseen by Cyber Ninjas, a Florida-based cybersecurity company with no experience in elections.
The other concern cited in the letter involved possible violations of the 1965 Voting Rights Act. The statement of work for Cyber Ninjas called for the audit to "identify voter registrations that did not make sense" and knock on voters' doors to confirm their registration information, as well as plans to conduct an audit of voting history in at least three precincts "with a high number of anomalies." Those plans would require audit workers to visit the homes of voters to determine whether they voted in the 2020 general election.
Karlan said that raises concerns that audit workers might engage in voter intimidation in violation of the Voting Rights Act.
"Past experience with similar investigative efforts around the country has raised concerns that they can be directed at minority voters, which potentially can implicate the anti-intimidation prohibitions of the Voting Rights Act. Such investigative efforts can have a significant intimidating effect on qualified voters that can deter them from seeking to vote in the future," Karlan wrote.
Karlan asked Fann to respond to her concerns and to explain what steps the Senate is taking to ensure the audit doesn't violate federal laws. Fann, R-Prescott, said the Senate's attorney is preparing a response for DOJ.
In an April 29 letter, several voting rights organizations asked DOJ's Civil Rights Division to send federal observers to monitor the audit. The letter raised both the issues that Karlan raised with Fann.
"Ballots that are protected under federal law are in imminent danger of being stolen, defaced, or irretrievably damaged, and Arizona citizens are in imminent danger of being subject to unlawful voter intimidation as a result of flawed audit procedures," wrote representatives of the Brennan Center for Justice, Protect Democracy and the Leadership Conference.