Quick Fact: CDC Data Tracker Shows The CDC has Delivered ZERO DOSES OF COMIRNATY
On the CDC's own COVID data Tracker, it shows no doses of COMIRNATY have been delivered.
Below you can see their U.S. COVID-19 Vaccine Delivered by Vaccine Type Data Chart.
According to the CDC they have delivered NO "Other" Vaccine types besides the Pfizer-BioNTech, Moderna, and J&J. Downloading the data clarifies what is included in "Other" vaccines.

COMIRNATY is "From" Pfizer-BioNTech.
Just this week the FDA reissued their Emergency Use Authorization for the Pfizer-BioNtech Vaccine and their Letter of approval for the COMIRNATY Vaccine. They hide this statement in the last paragraph on page 11: "The products are legally distinct with certain differences". It is intentionally vague because they don't want people knowing they can't actually get the only FDA approved vaccine.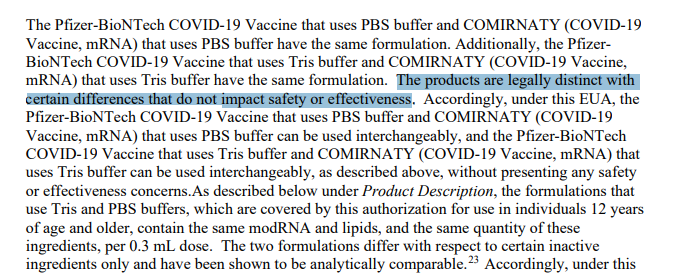 You can read the full letter below.
Comirnaty IS NOT the Pfizer-BioNtech Vaccine. The FDA explicitly states they are LEGALLY DISTINCT WITH CERTAIN DIFFERENCES.
This means ZERO DOSES of COMIRNATY have been delivered in the US as of 12/21/2021.