Social distancing and masks are back in one the most vaccinated nations of the world: Iceland. Yesterday, 82% of the new cases were fully vaccinated.
Gibraltar saw similar results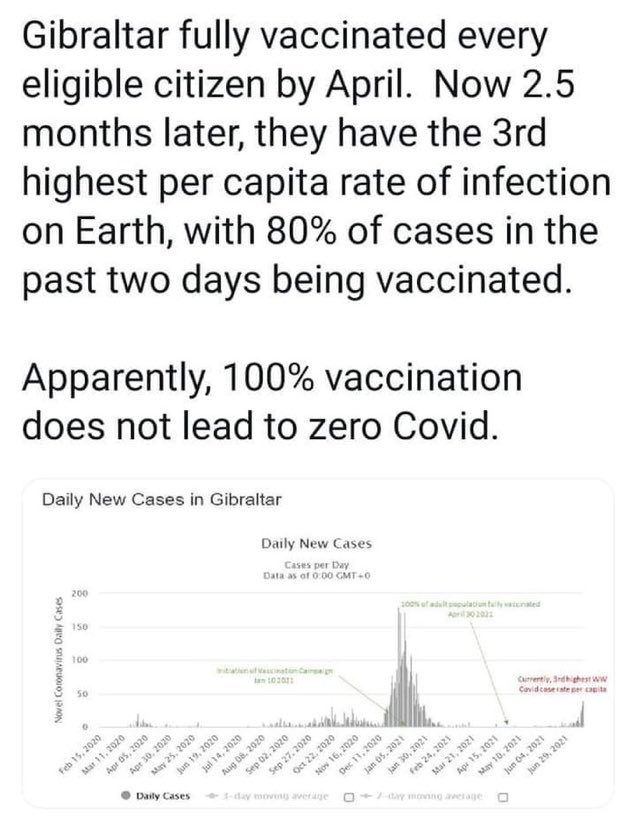 Even liberal doctors in America have began admitting 82% of infections are among vaccinated people
"83% (77/93) of our July cases are in vaccinated folks. This DOESN'T mean vax isn't working – calculated efficacy from these data is 82%. We'd expect 422 cases in our vaccinated population, not 77, if the vaccine didn't work. (14/20)"
Less than 60% of Americans have been vaccinated. So the false explanation that most of the cases are among the vaccinated people because a lot of people are vaccinated doesn't make sense. we are seeing across the globe about 80% of all new cases are among the fully vaccinated. this means there is some correlation between being fully vaccinated and being more likely to catch COIVD or a new variant.
Looks at this! I put together cases and vaccination data from the CDC. (Cases are per 100K left Y-axis | vaccinations are increasing % right Y-axis)
Cases drop by 75% or more for every age group BEFORE any group hits 20% vaccination. Something else is going on entirely here.
1/
Other age groups:
We've been operating under the assumption that the massive drop in cases is due strictly to vaccinations but (as you can see) for every age group cases DROPPED DRAMATICALLY before any group was even in single digit % vaccination rate. I blame seasonality and prior infection 🙂
Data here:
https://data.cdc.gov/Vaccinations/COVID-19-Vaccination-and-Case-Trends-by-Age-Group-/gxj9-t96f
Originally tweeted by Justin Hart (@justin_hart) on July 26, 2021.