John Geddert, who coached the 2012 US Olympic women's gymnastics team, was found dead Thursday after being charged with 24 felonies in connection with the abuse of young gymnasts, Michigan Attorney General Dana Nessel announced Thursday.
John Geddert, seen during the London 2012 Olympics, was suspended by USA Gymnastics in 2018.The 63-year-old was facing charges that included human trafficking, criminal sexual conduct and lying to a peace officer, a release from Nessel's office read. Geddert had been expected to turn himself in and be arraigned on Thursday afternoon."My office has been notified that the body of John Geddert was found late this afternoon after taking his own life. This is a tragic end to a tragic story for everyone involved," Nessel said in a statement.CNN has reached out to her office for further comment.Geddert wasthe former owner of Michigan's famed Twistars Gymnastics Club. It was one of the places Larry Nassar, the disgraced former gymnastics physician, had admitted to sexually abusing young female athletes. Twistars has since been sold and renamed.An attorney for Geddert, 63, did not immediately reply to a request for comment."It is alleged that John Geddert used force, fraud, and coercion against the young athletes that came to him for gymnastics training, for financial benefit to him," Nessel said. "The victims suffer from disordered eating including bulimia and anorexia, suicide attempts and self-harm, excessive physical conditioning, repeatedly being forced to perform even when injured, extreme emotional abuse and physical abuse including sexual assault."CNN obtained a copy of the complaint, which says the alleged offenses stretch from 2008 to 2016.A press release from Nessel's office said Geddert engaged in verbal, physical and sexual abuse against multiple young women.
Gedderts Wife's "Biography"
Yesterday, the Land Quality Division of the Wyoming Department of Environmental Quality (WDEQ) announced it has approved the in-situ recovery (ISR) uranium mine permit application submitted by Uranium One, owned by the Russian nuclear state corporation Rosatom.
According to WDEQ, the permit comes with a special condition: the permit reclamation performance bond contains a reduced contingency factor and only covers the monitoring wells that are already existing.
Uranium One was acquired by the Russian nuclear state corporation Rosatom in January 2013, and this deal was surrounded by a string of scandals involving allegations against the Clinton Foundation.
"I am pleased to inform you that today we control 20 percent of uranium in the United States. If we need that uranium, we shall be able to use it any time," said the former Rosatom's head Sergey Kiriyenko back in 2013 in his address speech to the Russian Parliament after Rosatom consolidated 100% of Uranium One and took it private.
Uranium One now is one of the world's largest uranium producers with a portfolio of assets worldwide, including Kazakhstan, the United States, Tanzania, Namibia and other countries. Uranium One is currently producing uranium in Kazakhstan from Akdala, South Inkai, Karatau, Akbastau, Zarechnoye and Kharasan mines.
@RandPaul tears into @SecretaryLevine and tells her he can't support her nomination if she can't answer questions about her support for medical intervention for minors.
"We should be outraged that someone is talking to a three-year-old about changing their sex!"
Watch:
WASHINGTON (Reuters) – The United States on Thursday carried out an airstrike in Syria against a structure belonging to what it said were Iran-backed militia, two officials told Reuters.
The strike comes after a series of recent rocket attacks against U.S. targets in Iraq.
The officials, speaking on the condition of anonymity, said the strike was approved by President Joe Biden.
The Oil War Is Back, Biden voters should get put into a special first draft system since they voted for war.
This was spearheaded by CIA Leon Panetta's son, Jimmy, who just happened to get himself elected to Congress. Signing on is Ted Lieu and Other swamp politicians that want to enslave you.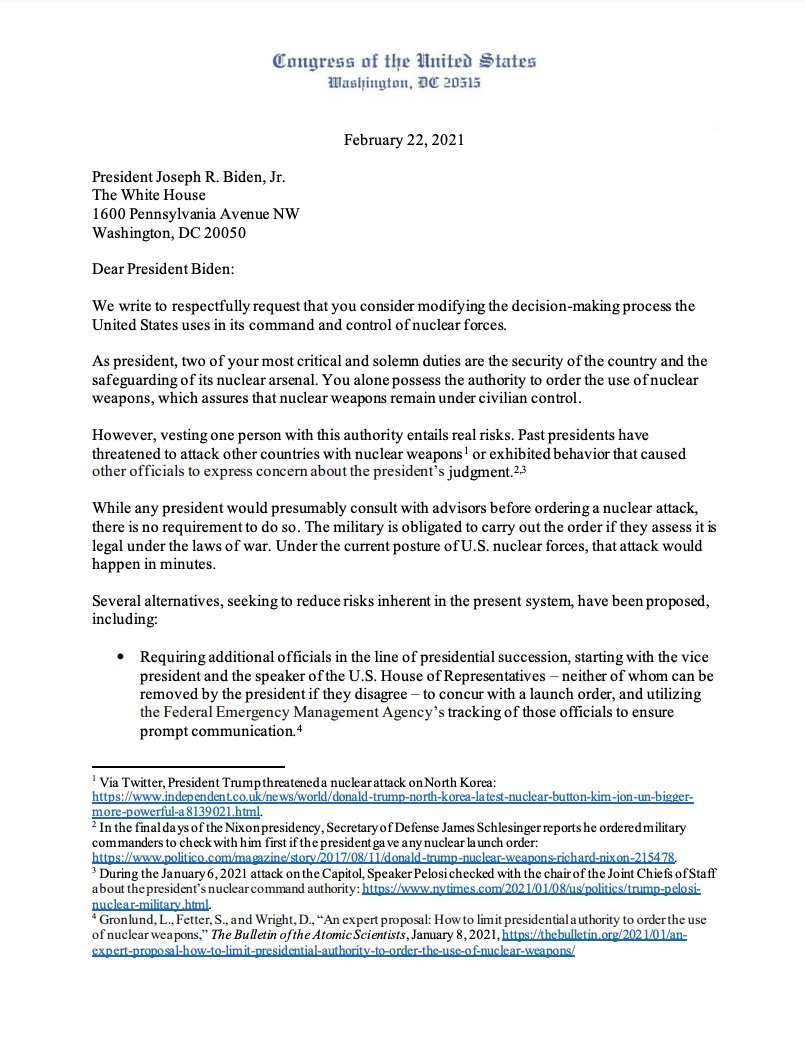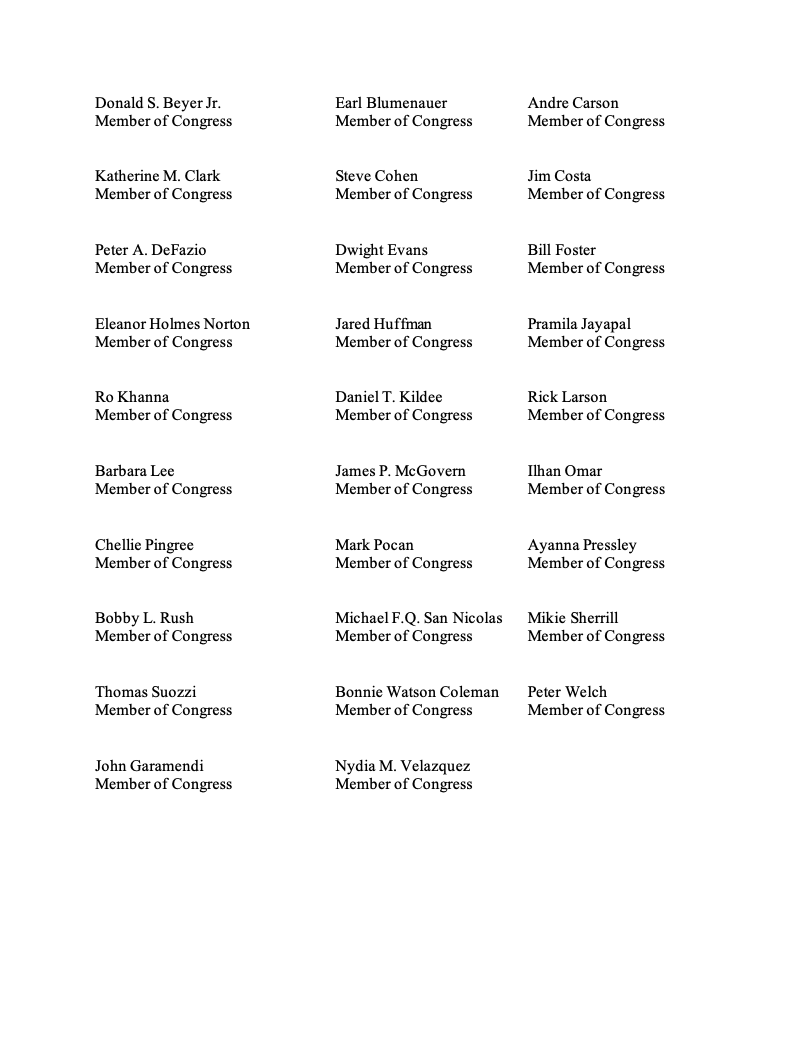 THIS IS NOT A JOKE, CONGRESS JUST USED AN POLITICO ARTICLE ABOUT TRUMP AND REAGAN HAVING NUKES AS A REASON BIDEN SHOULD GIVE THE CODES TO HARRIS AND PELOSI. THESE EVIL PEOPLE MUST BE STOPPED!
A police officer in Kentucky was fired on Feb. 19 over allegations he provided a Black Lives Matter organizer with information about other officers in the department during protests last year.
Lexington Police Officer Jervis Middleton was fired after a unanimous vote by the Lexington-Fayette Urban County Council, said local reports. The council found Middleton guilty on two of three counts of violating operational rules.
"Officer Middleton's conduct during a highly stressful and potentially vulnerable time during the history of our community – the most significant policing event in our community in 20 years – demonstrates that he should no longer be a police officer," said Keith Horn, a lawyer with the city, told the Lexington Herald-Leader.
Middleton challenged his termination and said the information didn't jeopardize officers' safety and was free speech. Middleton, who is black, said he faced racial taunts and discrimination in the department.
The American Civil Liberties Union (ACLU) division in Kentucky also weighed in.
"The ACLU of Kentucky is concerned (the) Lexington-Fayette Urban County Council fired Officer Jervis Middleton amidst longstanding calls for a radical transformation of policing and transparent relationships with the public," said Executive Director Michael Aldridge in a statement to Kentucky.com.

"While Officer Middleton's actions may warrant some level of disciplinary action, it is particularly concerning he was more swiftly investigated and harshly punished for sharing non-critical information than officers who use excessive force against protesters or create the culture of racism and hostility Middleton reported to no avail."
Lexington Police Chief Lawrence Weathers said a police disciplinary board recommended that Middleton be fired after he shared information with the organization and allegedly lied about it, according to the Herald-Leader. The paper reported said that Middleton used police resources to look up information about a woman who he was allegedly involved with.
"I felt like the discipline he received last time should have been a message to him and allow him to come back and become the officer that I know he can be," Weathers said.

"After this, I just can't see him coming back. To me, it was a violation of trust and a violation of the position of a police officer. He was supposed to protect the public, but he should also protect his fellow officers."
Investigators wrote that Middleton advised Williams that "certain officers and command staff were 'racists' and directed her to call them out during the protests" last year.
"He also provided her copies of sensitive 'law enforcement only' communications, including emails and text messages which outlined staffing, operational, and deployment plans. Based upon conversations between Ms. Williams and Officer Middleton, it is reasonable to believe that he knew what she would do and how she would use it against the officers and the agency once she received it," they wrote. There are also incidents where Officer Middleton actively encouraged Ms. Williams [tp] curse out and use the personal information he provided in a manner to embarrass the officers involved."
The politicians from both sides who have used we the people as slaves to harvest money for the elite ruling class have finally made a show of force against the people of the united states. Dancing on the graves. of 500,000 Americans the swamp that now controls all 3 branches of government is clearly signaling the start of their regime. This is not a good look for America
SEN. KYRSTEN SINEMA (D-AZ) PRESIDES OVER SENATE WEARING SHIRT THAT SAYS "DANGEROUS CREATURE."
Former Capitol Police Chief Steven Sund on Tuesday told lawmakers he did not receive a copy of an FBI report warning of violence that was issued the day before the attack on the Capitol.
The FBI issued a report from its Norfolk, Va., field office on Jan. 5 that detailed specific calls for violence on Jan. 6, including those that suggested protesters go to the Capitol "ready for war."
"I actually just in the last 24 hours was informed by the department that we actually had received that report," Sund said in response to a question from Sen. Amy Klobuchar (D-Minn.).
Sund said an officer assigned to the Joint Terrorism Task Force with the FBI received the report, which then went to an official at the Intelligence Division at U.S. Capitol Police headquarters.
"It did not go any further than that," Sund said.
The new detail came as Sund and other officials testified before the Senate Rules and Homeland Security committees about the security lapses that occurred Jan. 6.
The law enforcement officials have argued that intelligence sharing was a key factor in explaining why Capitol security forces were unprepared the day of the riot.
Sen. Jeff Merkley (D-Ore.) read snippets of online comments included in the FBI report, including one that said "Congress needs to hear glass breaking doors being kicked in," and another that proclaimed "We get our president or we die."
Merkley called the lack of information sharing within the Capitol security network concerning.
"That's very concerning whether or not [there are] procedures for the head of the intelligence on the U.S. Capitol Police to get the intelligence report, to review it, especially when there were significant other indications of potential violence," he said.
Around 200 illegal immigrants including at least 40 unaccompanied minors were apprehended in Mission, Texas after being smuggled into the U.S., according to border officials.
The illegal immigrants were accompanied across the border by "human smugglers," according to Customs and Border Protection (CBP) Rio Grande Valley Chief Patrol Agent Brian Hastings. It was around 43 degrees in Mission, Texas, Wednesday night at 8 p.m. CST when Hastings tweeted about the apprehensions, according to weather tracker Local Conditions.
"Nobody comes across that river without a smuggler. Nobody just walks up to the bridge and goes across. A smuggler put them in a raft and paddled them across, probably told them to go up to that road, take a left until you walk into an agent," CBP Public Affairs Officer Rod Kise told the Daily Caller News Foundation.
As a surprise to no one with a brain there are very few people if any at all that believe black peoples lives do not matter. A recent meeting of the 5 people in the whole world that do believe this crazy ideology recently sat down in an echo chamber to voice their disgust for blacks. The only notable member of the group is Former Vice President Joe Biden, who was recently in the news for accepting millions in bribes and using his crack addict son as a corruption pawn. He joined the group after he said "Poor kids are just as smart as white kids" and then "If you don't vote for me you ain't black"
Can Liberals get anymore dumb, hypocritical, and evil hearted?
People on both sides of the political spectrum are wondering when Psaki's terrible lies will stop. She is hands down the worst press secretary of my lifetime and its not even close.
The military trust this administration so little they are forcing people who are willing to give their lives for freedom to take a new oath to an Illegitimate commander in chief.
Over the weekend, the U.S. Navy ordered all of its personnel to retake their oaths of service as part of an ongoing extremism stand-down period.
Chief of Naval Personnel Vice Adm. John Nowell Jr. announced the service-wide plan in an administrative message on Sunday. Commanders are permitted to tailor their messages to their specific commands, but at minimum, they must have all Navy personnel, uniformed and civilian, participate in a "group re-administration and reaffirmation of the oath of office/oath of enlistment" and review "actions that betray the oaths."
"As public servants, we took an oath to the Constitution and we will not tolerate those who participate in actions that go against the fundamental principles of the oath we share, particularly actions associated with extremist or dissident ideologies," Nowell's message reads. "Service members, Department of Defense civilians and all those who support our mission, are entitled to an environment free of discrimination, hate and harassment."